VILLA CONCEPT UNIQUE SEASIDE PROJECT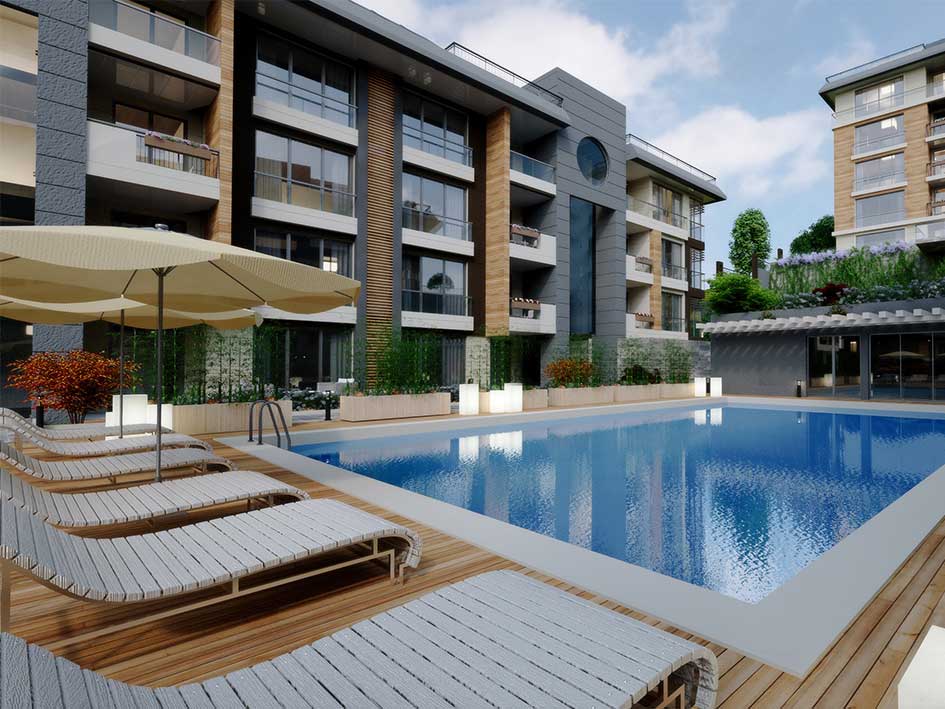 VILLA CONCEPT UNIQUE SEASIDE PROJECT IN BUYUKCEKMECE ISTANBUL 2+1 125M2 STARTING FROM 127.500 USD
Your new home gives you a wide space offers. Our rising Nurer Project in Buyukcekmece, which has become one of the developing regions of Istanbul, consists of 8 blocks of construction area, 88 houses and 9 blocks. Sized to enjoy this spacious living area.
Your new home with full sea, nature and sky view. Enjoy the spacious view of our project which consists of only 4 storey houses with wide building intervals.
Your new home is exactly like your dreams. You can choose the apartment that best suits your needs with the apartment options from 2 + 1 to 5 + 2 of Nurer Project.
BLOCK
FLOOR
TYPE
m²
House Facade

PRICE USD

F

1. Floor
2+1
125,00
E+S+W
127.500USD
3+1
135,00
E+N+W
140.700USD
2. Floor
3+1
135,00
E+S+W
148.700USD
3+1
135,00
E+N+W
144.700USD
3. Floor +Roof
5+2 DB
230,00
E+S+W
208.500USD
5+2 DB
230,00
E+N+W
202.300USD
Nurer Project Buyukcekmece 2nd Stage

BLOCK
FLOOR
TYPE
m²
House Facade

PRICE USD

A1
BLOCK

Ground Floor
3+1
165,00
NE+SE+SW
177.800USD
2+1
125,00
NE+SW
138.200USD
1. Floor
3+1
145,00
NE+SE+SW
160.900USD
2+1
125,00
NE+SW
135,800USD
2. Floor
3+1
145,00
NE+SE+SW
161.900USD
2+1
125,00
NE+SW
143.300USD
3. Floor +Roof 
4+2 DB
250,00
NE+SE+SW
245.400USD
4+2 DB
225,00
NE+SW
226.900USD
A2 BLOCK

Ground Floor
2+1
125,00
NE+SW
136.500USD
3+1
165,00
NE+NW+SW
182.500USD
1. Floor
2+1
125,00
NE+SW
134.000USD
 
2. Floor
2+1
125,00
NE+SW
141.400USD
3+1
145,00
NE+NW+SW
159.700USD
3. Floor +Roof
4+2 DB
225,00
NE+SW
226.900USD
4+2 DB
250,00
NE+NW+SW
245.400USD
B1 BLOCK

Ground Floor
2+1
135,00
SW+SE
149.300USD
3+1
165,00
SW+NW+NE
182.400USD
1. Floor
2+1
125,00
SW+NE
135.800USD
 
 
 
 
2. Floor
3+1
145,00
SW+NW+NE
169.800USD
2+1
125,00
SW+NE
143.300USD
3. Floor +Roof
4+2 DB
250,00
SW+NW+NE
245.400USD
4+2 DB
225,00
SW+NE
226.900USD
B2 BLOCK

Ground Floor
2+1
135,00
SW+NE
147.200USD
3+1
165,00
SW+NW+NE
175.400USD
1. Floor
2+1
125,00
SW+NE
133.900USD
3+1
145,00
SW+NW+NE
151.100USD
2. Floor
2+1
125,00
SW+NE
141.400USD
3+1
145,00
SW+NW+NE
159.700USD
3. Floor +Roof
4+2 DB
225,00
SW+NE
226.900USD
4+2 DB
250,00
SW+NW+NE
245.400USD
C BLOCK

Ground Floor
3+1
170,00
E+S+W
192.800USD
3+1
170,00
E+N+W
192.800USD
1. Floor
3+1
155,00
E+S+W
173.000USD
3+1
155,00
E+N+W
173.000USD
2. Floor
3+1
155,00
E+S+W
230.700USD
3+1
155,00
E+N+W
219.200USD